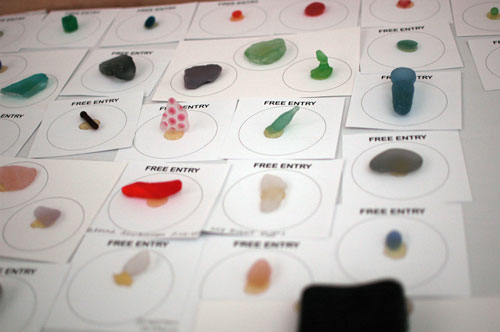 I learned so much last weekend at the North American Sea Glass Festival in Erie, PA.
1. One of the things I learned was that my little beach is a pretty darn good place to get glass. I had a chance to look at some other sea glasser's collections (they were mainly from Erie, PA and the Ohio area). Nice collections – but I dare say mine was just as good as some of the collections that I looked at and I just started this year. I also learned that there's a very good chance that I have plenty of old glass in my collection. Richard LaMotte gave a presentation at the festival and he mentioned that if you find an area with lavender glass, it's likely that it's an area with some old glass. And I  find a good assortment of lavender sea glass at my little beach.
2. Sea glass is hot. Very hot. I think this trend is nowhere near its peak.
3. Sea glass jewelry is a good niche to be in. It's still fresh and the market is not over-saturated.. yet.
4. Most sea glass enthusiasts are 50+.
5. The glass on the south side of Lake Erie is different. At least it is in Erie. I didn't find a lot, but what I found was very round and frosted. Lovely glass. I think it gets worn down by the round rocks that you find all over the beaches there.
I have so much more to write about the festival. Stay tuned!
Photo: Just a handful of the shards entered in the Shard of the Year contest at the North American Sea Glass Festival.